Kevin McCarthy predicts Matt Gaetz will soon face same troubles as George Santos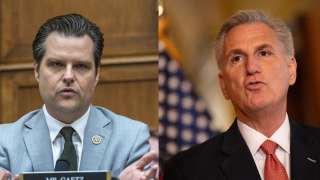 Former Speaker Kevin McCarthy said a House investigation could leave U.S. Rep. Matt Gaetz without his current relevancy.
During an interview with Fox Business' Maria Bartiromo, the California Republican unprompted added further fuel to his ongoing feud with Gaetz.
McCarthy became the first lawmaker ousted as U.S. Speaker of the House after Gaetz in October made a motion to vacate the leadership post. That set off a 22-day leadership fight in Congress, ultimately resulting in U.S. Rep. Mike Johnson, a Louisiana Republican, becoming Speaker.
Bartiromo asked McCarthy about progress in the House since the transition, and the former Speaker suggested dissent within the GOP caucus continued to sta...