Ron DeSantis continues mocking Nikki Haley over George Floyd position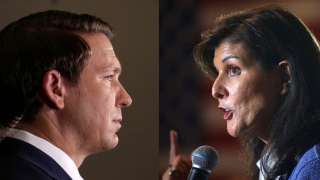 Florida's Governor is betting that the killing of George Floyd and a key opponent's reaction to it may be the jump start his presidential campaign needs.
On Saturday in Ottumwa, Ron DeSantis lashed out at "liberal Republican" Nikki Haley for her belief that the Black man killed by a Minneapolis police officer in May 2020 should have been "personal and painful" for Americans.
"She has accepted liberal narratives on a whole bunch of things. When the BLM riots happened, the George Floyd riots, I called out the National Guard. I was not going to let that happen in Florida. I stood by the police," DeSantis said. "She said that it needed to be personal and painful for each and every American."
"Wh...