DeSantis offers to boost security after multiple people killed or wounded in Tampa shooting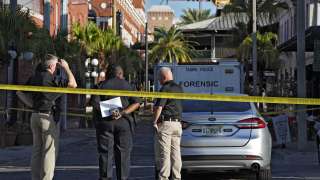 MIAMI — Gov. Ron DeSantis offered state resources to local police officers following a shooting in Tampa Saturday night that left two dead and almost 20 people wounded.
The Tampa shooting, which sparked criticism from state Democrats over Florida's less-restrictive gun laws, comes just days after a 40-year-old gunman killed 18 people in Lewiston, Maine, in the deadliest mass shooting in the U.S. in 2023.
Authorities said a feud between two groups escalated Saturday night into a shooting in the Ybor City area of Tampa, which is a hub for Halloween festivities. The assailants opened fire right as crowds of people had poured into the streets from bars and clubs that had just closed for the nigh...