'Vile political stunt': Charlie Crist joins Annette Taddeo, Hispanic leaders to slam migrant flights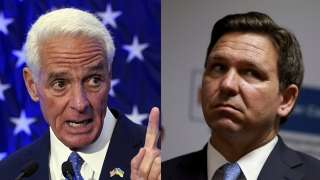 Democratic gubernatorial candidate Charlie Crist joined state Sen. Annette Taddeo and a handful of Hispanic community leaders Wednesday to discuss Gov. Ron DeSantis' move to fly 50 undocumented immigrants from Texas to Martha's Vineyard.
Crist slammed the Governor over the controversial flights, calling the action a "vile political stunt."
"Ron — you trafficked these people. You lied to them. You spent our tax money flying them across the country," Crist said. "Now, because of you Floridians are left holding the bag for your games. There is no evidence that these refugees ever sought to come to Florida. So Ron had to trick them to participate in this political stunt."
The Venezuelan migrants...