WATCH: Florida man threatened to beat code enforcement worker to death with tablet, police say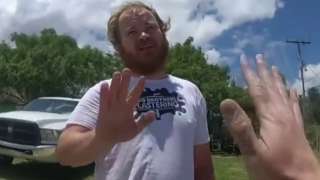 DAYTONA BEACH, Fla. – A Daytona Beach man was arrested after being accused of threatening to beat a city code enforcement worker to death with the tablet he was using to take pictures of the man's property.
Police arrested Kevin Sbrusch, 36, Wednesday at his home.
[TRENDING: I just bought some beer, does it have to go in my trunk? Trooper Steve has the answer | Florida's secretary of state to resign ahead of upcoming elections | Become a News 6 Insider (it's free!)]
Police said a code enforcement worker was taking pictures of Sbrusch's property because he had vehicles parked in his backyard, which is against the city's code.
The code enforcement worker's body camera video shows Sbrusch confr...